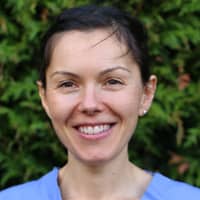 Rebecca Hinksman
Hygienist
GDC No. 178739
Rebecca Hinksman joined the Purly's team in 2013. She qualified from the Eastman Dental School in 2009 with the Carol Chivers Memorial Award, recognising her care for patients.
Rebecca's skills include oral health care advice, scaling and polishing, non -surgical periodontal therapy, tooth whitening and fluoride treatment. Rebecca is keen to promote good oral health from a young age and visits nurserys, play groups and schools to promote this.
She continues her professional development with regular courses and seminars.
Recently she has become a volunteer vaccinator in the fight against Covid.
Outside of work Rebecca likes to paint, play the piano and keep fit, although most of her time is spent running around after her young son!
Back to our team